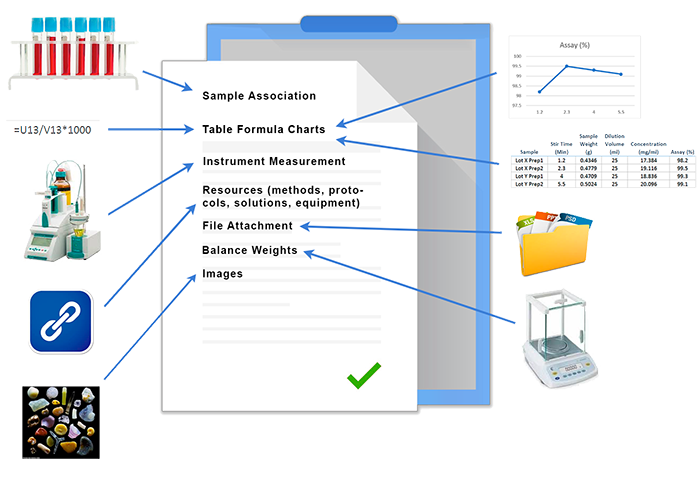 Today, our focus will be on the Pharmaceutical industry and the transition these labs are making from paper to digital documentation for a paperless lab. For years, investment in digital solutions to manage, record, and make sense of lab data was mainly limited to major pharmaceutical institutions.
These companies initially deployed Laboratory Information Management systems (LIMs) and more recently Electronic Laboratory Notebooks (ELNs). Now, even smaller laboratories can afford and benefit the transition from physical notebooks to a digital environment.
Why Go Paperless?
Data is stored in one easy to find location.
The data isn't in multiple notebooks stuffed into the bottom of someone's desk or in off-site storage, which will require time to find and obtain, but accessed via a database or cloud solution.
The capability of sharing documents.
Through managed access, users can share documents, review documents, and approve documents, increasing the laboratories efficiency.
Search Tools.
Users can search for documents, resources, methods, etc. when they need them. Instead of having to leave the lab and look for a specific item, the user is able to digitally find, review and, if desired, reference or attach supporting documentation.
Cost Savings.
The laboratory will be able to complete more tasks using the same resources, with documented efficiency increases of 30% over paper systems. The lab avoids the costs of off-site storage for physical notebooks.
Compliance.
Some ELN and LIM systems are Regulatory Compliant.
What does ELN and LIMS mean and Why It Matters?
Let's start by repeating what the acronyms stand for:
ELN stands for Electronic Laboratory Notebook and LIMS is Laboratory Information Management System.
The strength of an ELN solution is the ability to easily document laboratory work. In addition, ELN solutions facilitate co-working and sharing of documentation between colleagues. Most ELN solutions do not support definition of Samples, Analyses, and Structured Results which are required for later stages of development. Work flows (document and sample review & approval cycles) are largely absent from ELN offerings as is adherence to GMP compliance regulations. By and large, an ELN is relegated to very early development or must be paired with a LIMS to effectively support later pharmaceutical development stages.
The strength of a LIMS is management. Samples, Users, Instruments, Resources (solutions, standards), Structured Data, and Application Integration are all managed effectively by LIMS. LIMS software is at the center of an information web with the ability to process and report data as required by later drug development stages. The very structured nature of LIMS however hampers the ability to effectively capture lab data at the bench. Implementation and maintenance of a LIMS is also difficult for smaller companies without dedicated IT resources.
For companies working in the later stages of drug development, there is significant benefit to combining ELN with LIMS. ELN as the efficient at-bench recording medium with an interface to LIMS for access to managed resources; and LIMS as the control and reporting solution. Until recently, managing and integrating a combined ELN & LIMS has required large company dedication and resources. Vendor offerings continue to evolve. Some vendors are now offering integrated ELN & LIMS solutions.
Another evolution, such as SciCord, is a single hybrid application combining the best features of both ELN & LIMS. By combining all functionality in a single application, there is no integration, reducing implementation and maintenance efforts required to obtain a paperless lab.
How to decide on an ELN and LIMS?
There are many ELN and LIM systems available and a lab's selection will mainly be determined by what is necessary for them. The lab should consider what stage of development they are in and whether that would warrant an ELN only or an ELN plus LIMS. Would it be necessary for a non-GMP lab to purchase an expensive, GMP compliant digital documentation system? Probably not. Next, the laboratory should consider their size.
Larger companies may want a combined ELN and LIMS, while smaller companies without dedicated implementation and maintenance resources may want a hybrid.
Here are other items to consider:
Where will the ELN/LIMS be in use?
What is the Main Purpose?
How will it be integrated with the current IT Infrastructure?
Is the User Interface easily understood? 'Friendly'?
Instrumentation Connection?
What type of Licensing Model?
Compliant or Not Compliant?
Understand your needs before jumping-in to buy an ELN or LIMS. Too many times companies have sunk large amounts of money into Laboratory IT programs that sputter along and eventually fail. End-user adoption is important, but if the ELN or LIMS doesn't integrate well with other systems, the end-user will never have a chance to utilize the 'friendliness'.
SciCord offers a GMP-compliant product that can be used for Analytical QC, Developmental Studies, Synthetic Chemistry, and Manufacture Batch Records. It combines the compliance and structured aspects of the LIMS with the flexibility of an ELN. As SciCord is a cloud solution, no hardware will need to be purchased and integration with any current IT infrastructure is simple. The program can either be accessed via the web or through a Client portal downloaded onto the desktop. Also, because their templates utilize the spreadsheet paradigm the user interface is understood with ease making the solution an easy transition for users.
Going Paperless
Choosing an ELN and LIM, or Hybrid system is the first step towards transitioning to the paperless environment. The remaining way isn't always easy.
Road bumps can be found with IT integration, end-user adoption, customization and validation issues. Nonetheless, the benefits of such a system far outweigh any of these road blocks and the best systems find a way to minimize these issues as laboratories make the transition.