[FA_icon]fas fa-network-wired[/FA_icon] Challenges of Third Party Interfacing
Interconnecting Databases: SciCord excels at creating connections between databases, whether it's through SQL queries or other methods, ensuring data flows smoothly between different systems.
System Understanding: SciCord possesses the expertise needed to understand the intricacies of individual systems and create the necessary code to facilitate their interaction. This knowledge is crucial, especially when laboratory personnel lack extensive IT expertise.
Collaborative Approach: SciCord collaboratively evaluates your current lab informatics systems, applications, instruments, and more, leveraging its experience to seamlessly integrate them, aligning with your business objectives.
[FA_icon]fas fa-check-square[/FA_icon] Features of the SciCord Solution
Streamlined Integration: The SciCord third-party interface streamlines the integration of your laboratory systems with third-party software and equipment, reducing manual data entry and enhancing operational efficiency.
Data Accuracy Assurance: By automating data transfer between systems, third-party interfacing with SciCord ensures data accuracy, a critical requirement in laboratories where precision and compliance are paramount.
Real-time Data Access: The SciCord interface allows real-time access to data from various instruments and systems, enabling quick and informed decision-making, especially valuable for time-sensitive research.
Comprehensive Data Analysis: Integration provides a consolidated view of data, facilitating in-depth analysis. Researchers can easily compare data from various sources, identifying trends and correlations.
Customized Implementation: The SciCord interface is customizable to meet the specific integration needs of your organization, tailoring the solution to your unique requirements.
[alt-row-flex][col-flex-4.5]
[FA_icon]fas fa-list-alt[/FA_icon] Systems to Consider Integration
Your Third Party Interface can connect and integrate with a wide range of systems, including but not limited to:
Lab Information Management System (LIMS)
Electronic Lab Notebook (ELN)
Chromatography Data System (CDS)
Laboratory Execution System (LES)
Inventory Systems
[/col-flex][col-flex-0.5] [/col-flex][col-flex-7]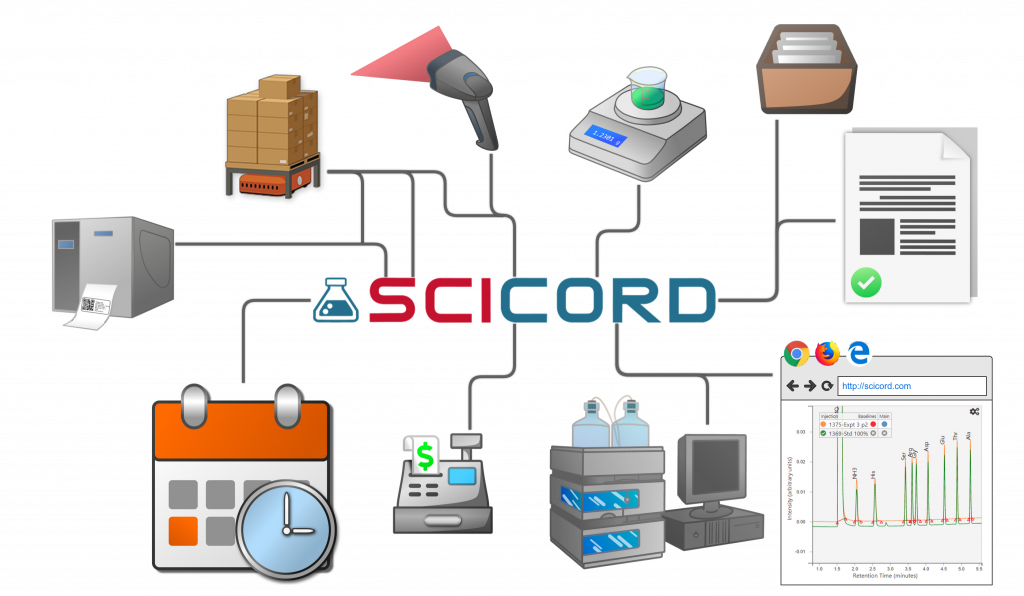 [/col-flex][/alt-row-flex]
---
[alt-row-flex][col-flex-6]
Manufacturing Execution System (MES)
Enterprise Resource Planning (ERP)
Calendars & Time Management Systems
Training Applications
Quality Assurance – LIR
Workflow Management
Document Management System
Scientific Data Management Systems
Visualization Tools
DataMart
Metrology
Instruments
[/col-flex][col-flex-6]
SAP
Environmental Monitoring
Stability
Manufacture Batch Records
Validation
Paper Records/Notebooks
Data Repository
Archive
Specifications / Result Validation
Accounting and Financial Systems
[/col-flex][/alt-row-flex] [spacer] Interested in learning more about how different instrument types are integrated?
Read more here.