"The world of lab data software is not well-defined, but at least two types of systems that come up are ELNs and LIMSs . . . Despite how important LIMS are to biotech, I don't know how a biotech is supposed to get one up and running . . . Unfortunately, I don't know of any specific LIMS that works well for general use."

– Brian Naughton, Boolean Biotech 2021
Mr. Naughton's comments are insightful, primarily because he works in the biotech industry and acknowledges the vital role a LIMS (Laboratory Information Management System) plays. Even in the pharma and biotech industries, people are confused about the differences between an ELN (Electronic Lab Notebook) and a LIMS. They wonder what role each software plays. The implementation of a LIMS appears to be a risky journey into the unknown.  They are unsure of the internal support required to use an ELN or LIMS and what systems and instruments the software would support. And, of course, they want details about system security, support, integration, and cost.
This article addresses those issues by detailing the SciCord hybrid ELN/LIMS. Along the way, we clarify some areas of confusion and explain how to get the SciCord ELN/LIMS up and running.
First, some ELN/LIMS basics
To establish a firm footing, let's define some terms.
What "SaaS" is and how it is delivered
"SaaS" stands for Software as a Service. SaaS applications are delivered via the Internet and often utilize the Cloud for storage. The SaaS provider manages the application, provides hardware, maintains security, and routinely monitors performance.
Typical benefits or advantages of a SaaS solution include:
Reduced time to benefit
Lower costs
Scalability and integration
New releases (upgrades)
Easy to use and perform proof-of-concepts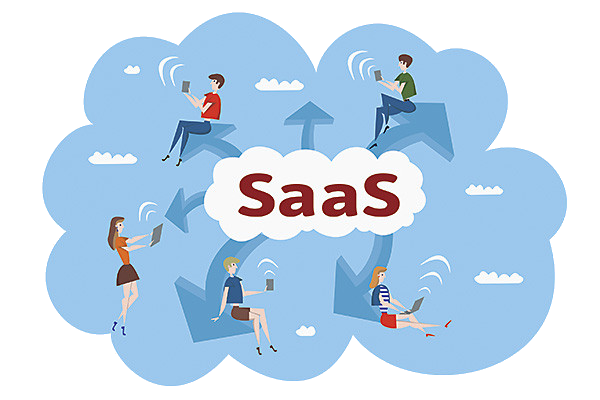 Additional details on these items can be found in
Top 5 Advantages of Software as a Service (Saas)
.
Comparing an ELN and a LIMS
Even though they are similar, an ELN and a LIMS serve different purposes. The focus of a LIMS is to allow a lab to capture, manage and analyze data. Using a LIMS increases a lab's compliance and accuracy. A LIMS also records resources used in generating results such as how equipment is operated, maintained, and calibrated.
If you envision an ELN as a digital version of the traditional lab notebook, you're on the right track. As a paper notebook does, an ELN records the tiny details of who did what in the lab, as well as where and how it was done. This includes documentation about lab personnel, equipment usage, sampling techniques, and materials. The ELN also documents the results. What happened? Did the results meet the expectations? Were there notable outliers?
Whereas the LIMS manages structured data for the broad parameters of a study or protocol, an ELN handles unstructured data and adapts to changing workflows, even ones that change several times each day. That's the crux of the difference between the two and explains why a lab would benefit from utilizing both.
Now for the SciCord details
For Brian Naughton and many others who want to know how to get an ELN or LIMS "up and running," here are the details.
SciCord's industry and sectors
The SciCord Informatics Platform was designed for the pharmaceutical industry and now includes an industry-leading application for labs developing inhaled products. SciCord provides the perfect platform for research organizations–such as biotech firms–that need a compliant documentation system from late Phase II through manufacture. In addition, the software is scalable and, therefore, able to support global organizations as well as individual laboratories.
Unlike a traditional ELN or LIMS, SciCord's spreadsheet-based hybrid Informatics Platform integrates the flexibility of an ELN with the compliance and structured aspects of a LIMS. Therefore, there's no need to find and integrate ELN and LIMS software.
SciCord:
Delivers its service effectively.
SciCord serves both GxP and non-GxP clients.  SciCord provides the software and the infrastructure, maintenance, and support.
Protects data from external threats.
All SciCord systems are periodically updated with the current patches and security protocols. Data in the SciCord database is encrypted to protect it. Data is also encrypted when transmitted between a client's site and the Cloud servers. Additionally, clients can expect external protection tests at least annually, with every major software release.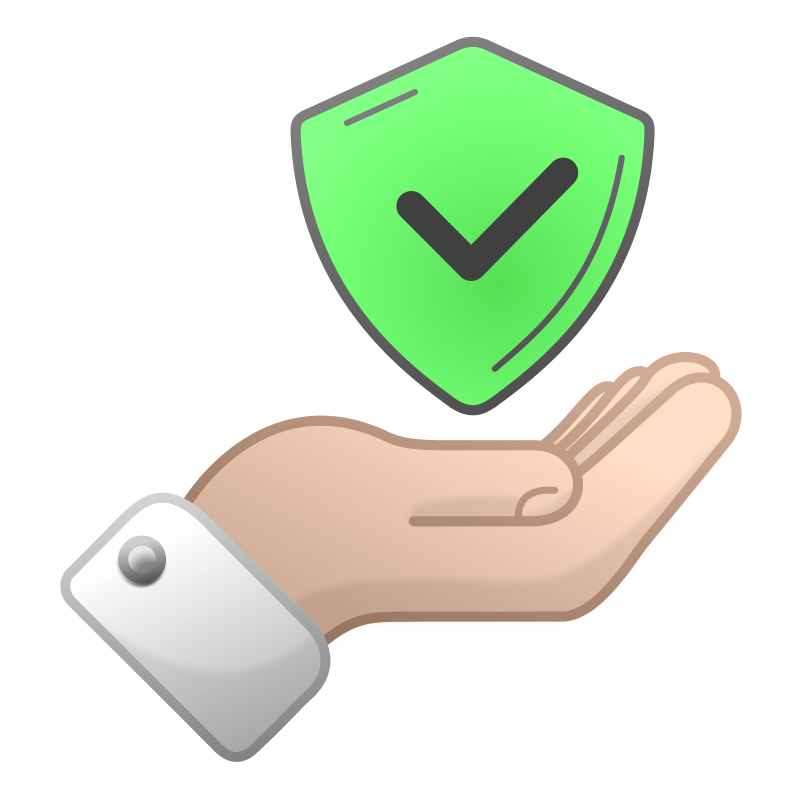 Protects data from improper internal access and vulnerability.
A layered password system allows users to access only the information and resources required to perform their legitimate tasks. As designated by FDA 21 CFR part 11, SciCord incorporates security features such as timestamps and digital signatures to assure regulated agencies that data on the system is consistent, not tampered with, and in general follows the data integrity directives mandated by the FDA. The system is also evaluated at least annually to verify its effectiveness.
Additionally, SciCord safeguards application and interface security by:
Following SDLC (Software Development Life Cycle) guidelines, which outline phases of development, each with built-in control features.
Using only in-house code developers.
Penetration testing for each major version
Regularly testing the software against OWASP Top 10 to identify any vulnerabilities.
Functional benefits of the SciCord Informatics Platform
Here are the routine benefits that our robust Informatics Platform affords a pharmaceutical, R&D or biotech lab.
Improved sample management
SciCord Informatics Platform allows you to define properties for sample identification, including the date of receipt, sampling date, batch number, and barcode identification.  The software also facilitate task management, generation of sample results, and sample inventory.
Improved asset management
SciCord records each asset's ID, location, and calibration details and allows assets to be linked via an interface connection. SciCord can connect to virtually any instrument and automatically retrieve data (e.g. balance reading, pH meter reading, etc…), avoiding data entry errors, speed up process (parsing standard reports) and at the same time improve compliance and data integrity.
Increased traceability
In addition to tracking asset usage and related details, SciCord Informatics Platform keeps track of all other resources used in the laboratory. This includes users, samples, and reagents. It also provides multiple security levels and an audit trail that follows GLP   (should GMP be mentioned as well?)and with
complies with FDA 21 CFR Part 11
and other regulatory requirements.
Simple data retrieval
SciCord's search function lets you access data from a specified experiment and stipulate that a particular researcher performed the work. You can also specify exact parameters for the results.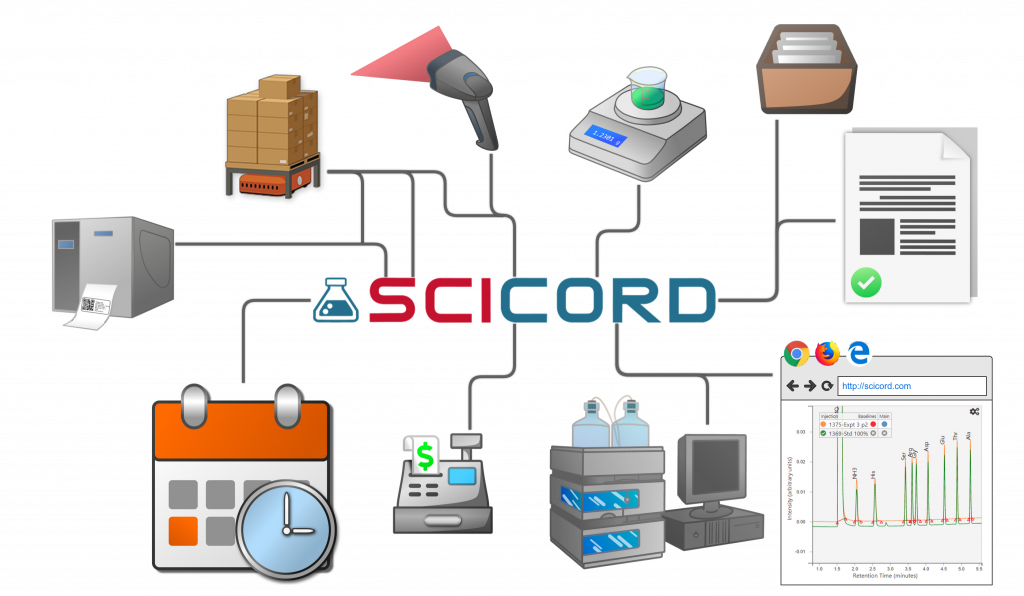 SciCord's multiple levels of data access facilitates investigations and reporting. From specific to broad, the levels include 1) document or experiment, 2) sample or lot, and 3) "SciMart"– a fully customizable read-only data layer that allows customers to connect their Business Intelligence and Analytics tools to mine and analyze data produced by their scientists. These capabilities make data retrieval much faster and help increase a lab's efficiency and productivity.
Getting SciCord "up and running"
Here are the fine points of getting the SciCord Informatics Platform working in your lab.
Necessary people and equipment
A lab doesn't need to overflow with IT gurus or 'superusers' to reap the benefits SciCord provides. Users only need PCs that run Windows and basic working knowledge of spreadsheet software. SciCord provides initial instruction and training as well as periodic support. (Details follow below.)
Systems and instrument compatibility
SciCord simplifies instrument connectivity. Clients don't need to overhaul their lab to implement the system – SciCord software can integrate with a lab's third-party or in-house LIMS, SAP (Systems Applications and Products), or document repository.
SciCord's instrument interfaces vary based on the type of instrument and the level of interface each requires. When devices produce files, the relevant files are attached to the document or experiment, along with the necessary context. SciCord provides a specialized printer driver for instruments that produce only printed reports. The driver captures the output directly into the SciCord database as a pdf file.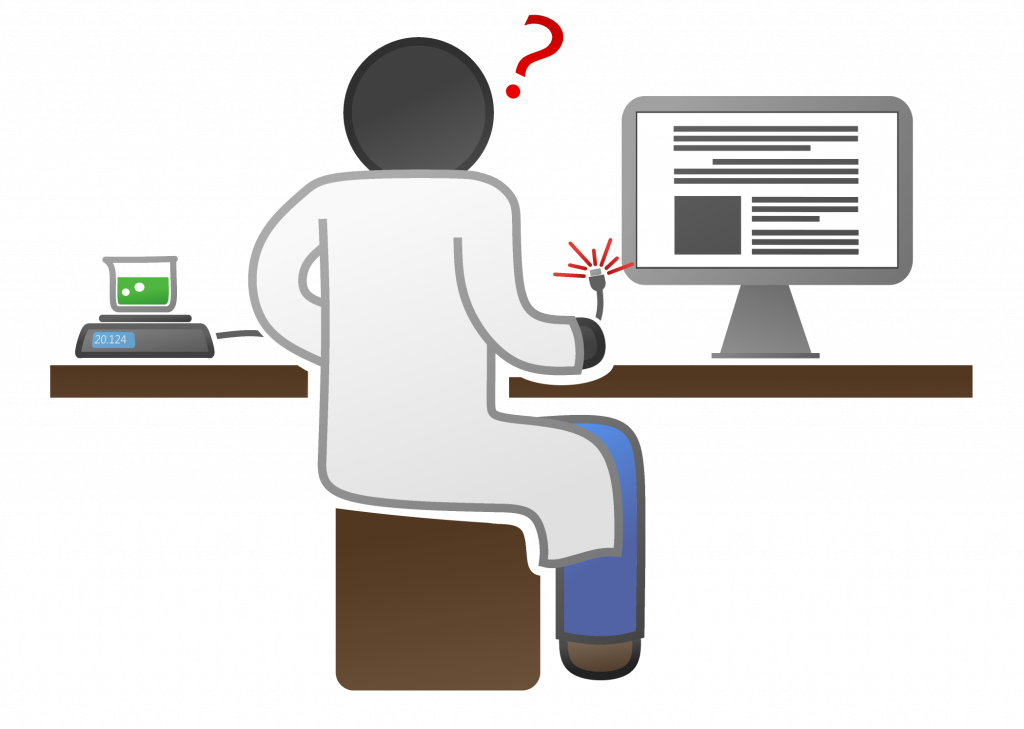 SciCord accommodates real-time data collection and displays from balances, pH meters, and other instruments by monitoring an IP address. For instruments that feature a result database, SciCord connects to the database, acquires the results, and records them.
Training and support provided
SciCord offers the support required to implement and customize the software to fit a client's needs. Each client is assigned a Project Manager to coordinate the deliverables between each lab's personnel and the SciCord personnel.
SciCord utilizes an API that serves as an intermediary between a client's lab and the SciCord software. When modifications are necessary, lab personnel can learn the API program in a 4-hour training program provided by SciCord employees. Lab personnel can then implement the new functionality themselves.
When the SciCord software is upgraded, SciCord employees provide complete documentation about the upcoming changes. Once the client approves the changes, SciCord upgrades to the new release overnight, typically over a weekend when working hours are limited. Since on-site testing of the software is not typically required, the lab doesn't usually experience any downtime.
The transition process
Transitioning a lab from paper notebooks to SciCord's Informatics Platform (or any ELN or LIMS or Batch or Stability system) is a process that involves time, training, and adaptation. There will be a few hurdles. Click here to learn what to expect and how to smooth the transition process.
Summary
This working paper is intended to demystify the implementation process and clarify the benefits of ELN & LIMS, and other lab software solutions in your lab. If you'd like to learn more about how you could use SciCord Informatics Platform in your laboratory, provide us your contact information, and we'll share a helpful demo that will show you how our Informatics Platform could boost the productivity of your lab and enhance the quality of your data.