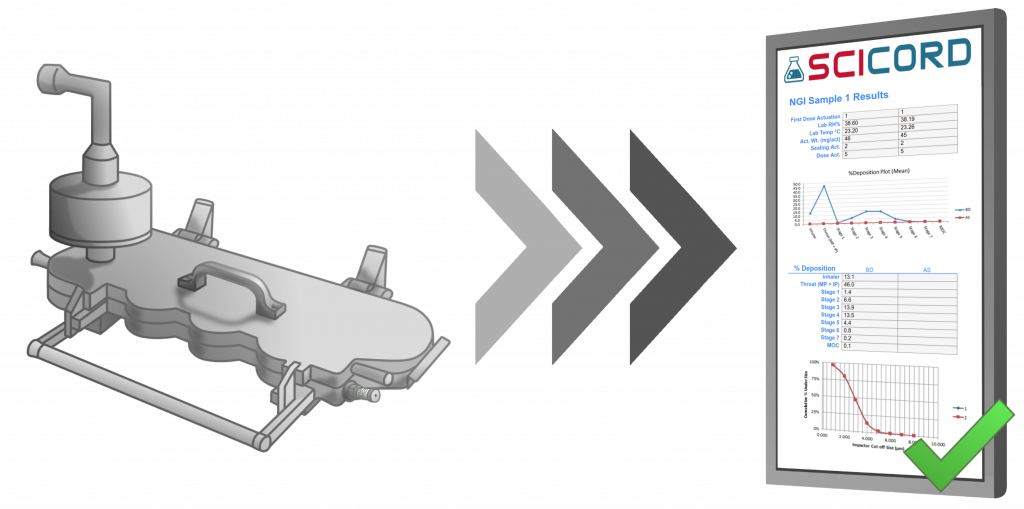 Providing Inhalation Process Development (IPD) Labs with a Digital Data Solution
Labs developing and testing DMDIs (Dry Multi Dose Inhalers) and DPIs (Dry Powder Inhalers) face a particularly challenging task. Their medication is delivered as micronized particles of dry powder or vapor that's propelled through an inhaler to reach a patient's lungs.
In addition to verifying the effectiveness of the drug, the labs must assess the effectiveness of the inhaler itself and then test drug and inhaler combinations until both are optimized. The exacting process of several iterations of testing yields mountains of precise data that must be recorded accurately and then carefully analyzed and manipulated for clarity and understanding.
Several aspects of ELNs make them a superior solution to paper notebooks for analytical labs developing and testing inhaled therapies. This article addresses the challenges and then explores how an ELN is an ideal paradigm to meet those challenges successfully.
Challenges Faced by Inhalation Process Development Labs
"The analytical testing of inhaled products involves a high degree of manipulation combined with the collection of airborne micronized drug particles in relatively small amounts."

– Dave Russell-Graham, of Pfizer & Andy Rice, of GlaxoSmithKline
Labs involved in the development and testing of DMDI and DPI products must answer a range of exacting questions as they move through each phase of the process.
Compliance
Does our current lab system provide an audit trail that is compliant?
Do we provide an adequate trail of signatures and time stamps?
An ELN Meets Those Challenges
An ELN is an ideal vehicle for the testing of DMDI and DPI products because it:
Guides and informs the entire work process by documenting the sequence of events and highlighting areas of inconsistency.
Provides a customizable and validated calculation engine that supports results beyond the capacity of analytical instrumentation.
Handles large data sets arising from extremely complex and complicated analysis sequences. A robust ELN generates reportable data as well as raw data, manages the required precision, and automatically updates results when a contributing data point is corrected.
Allows complex sample preparations to be automated and then interfaces with the sample preparation equipment. This increases measurement accuracy, reduces errors of transposition or substitution, and provides documentation that links equipment, instruments, and resources to preparation documents.
Communicates with analytical instrumentation to generate run sequences, record instrument reports, and parse measurement data.
Permits efficient and comprehensive assessments that validate calculations, flag potential problems, and facilitate multi-stage or multi-person reviews.
Provides compliant documentation that includes a comprehensive audit trail and electronic signatures.
Although all of these capabilities are key, the most significant advantage of an ELN is its ability to easily visualize variability caused by changing parameters. An ELN creates a structured data set representing the inhaled product, the device, and the test parameters, in addition to test results.
Visualized data lets analysts see the variability generated by changes in flow rates, spray patterns, through use, sample preps, test conditions, data transcription, and analyst techniques. Visualization highlights anomalies in the analytical data, reduces the amount of effort required to identify their sources, and supports better QC.
SciCord's integrated ELN/LIMS Is an Ideal Paradigm for Labs Testing DMDIs and DPIs
SciCord is a hybrid ELN/LIMS, featuring a spreadsheet paradigm that combines the compliance and structured aspects of a Laboratory Information Management System (LIMS) with the flexibility of an Electronic Laboratory Notebook (ELN). Incorporating a sophisticated computational spreadsheet supports efficient analytical documentation.
The ELN and LIMS functions integrate seamlessly and enable your company to quickly reap the benefits of enhanced data and time efficiencies as you continue to meet compliance standards and follow GLP.
SciCord's data visualization capabilities address the unique difficulties encountered by labs testing DMDIs and DPIs and provide an efficient means to pinpoint anomalies, identify their sources, and provide better QC.
If you'd like to learn more about how you could use SciCord ELN/LIMS in your laboratory, please request a demo. Provide us your contact information, and we'll share a helpful demo that will show you how our ELN/LIMS could boost the productivity of your lab and enhance the quality of your data.